Australian Accountants – Get more from your website this financial year!
We've found that the start of the financial year is when many firms think about their website and online marketing.
Bizink works with accounting firms across Australia, helping them improve their online presence. If you're looking to up your online game, here are some ways we can help:
Qualified leads from your website
Want to grow your firm but are reliant on referrals?
How about 16 leads from your website every month? And 60% of these leads become clients with an average annual value of $4000.
This is what one firm in Western Australia achieved using Bizink content and a simple online marketing strategy. You can find out the exact methods they used in this webinar recording or by downloading this infographic.
Content written for you by an expert team
Content is the key to online success. But great content is hard to create and is time consuming.
Every Bizink client has content created for them by our expert team of small business writers. These guys have been creating winning small business content for over 20 years. Their other clients include ANZ, NAB, MYOB, Bank of America and Microsoft.
If you're looking for tax and compliance content that sends business owners to sleep, unfortunately we can't help you. But we can give you blog posts, social media content and heaps of tools and resources that your clients and prospects actually want to read.
Here's what one client had to say about Bizink content:
"If you run an accounting firm then you need to subscribe to BizInk it will pay for itself and help you set yourself apart from others."
Kate Jessop, Flavel Tierney (Perth, WA)
Drop us a line or book onto an online demo to find out more about how we help Flavel Tierney and accountants like them.
Automated social media and email newsletter
We know time is your most precious resource so we build productivity into everything we do.
We can automate your social media and email newsletter directly from your blog. In practice, it means you can spend as little as one minute a week* and have an active presence across the most important online marketing channels.
* really! Here's a webinar that shows you how.
A better Google ranking
We can't guarantee you number one spot in Google. If anyone does, run a mile as they are selling snake oil!
But we will optimise your website to give you the best possible chance to a high Google ranking. Plus we'll keep you supplied with engaging content (which search engines love).
Our clients also get access to our knowledge base and educational webinars where we share the latest best practices on how to get more search engine traffic.
Content from your favourite partners
Xero Partner? So are we and we've got heaps of great Xero content and features so you can promote your Xero Practice.
And we've got content from lots of other popular industry partners too like MYOB, Receipt Bank and Vend.
A mobile friendly website
Since April, Google is penalising any website that isn't mobile friendly. Does your website pass their test?
Bizink websites are mobile friendly as standard and they look great on any type of device from a wide screen monitor to an iPhone.
---
If you'd like help with your website and online marketing, please drop us a line. Or book onto an online demo to find out exactly what we offer.
---
[one_half]
Find out in 90 seconds how BizInk makes accountants incredible online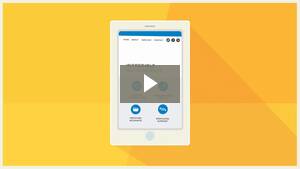 [/one_half]
[one_half_last]
Book an online demo
 Get a guided tour of BizInk's website and online marketing platform for accountants.
[button link="#demo" button type="big"]Book demo! [/button]
[/one_half_last]